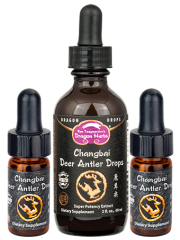 Deer Antler Drops with 2 FREE Minis
Buy 1, Get 2 Deer Antler Mini Drops for FREE! Limited Time Only. While supplies last.
Gifting made easy. Free mini gift tubes included.
Super potent hydro-ethanolic extraction
Changbai Mountain Sika Deer antler.
Only the top 1" of tips.
Yang Jing and Yin Jing tonic.