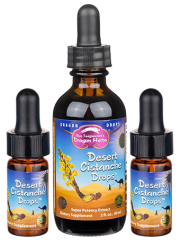 Desert Cistanche Drops with 2 FREE Minis
Buy a 2 oz. tincture, and get 2 mini drops for FREE! Get it while supplies last.
Gifting made easy. Free mini gift tubes included.
Super potent hydro-ethanolic extraction
Made with large wild Cistanche
From the desert of Western Mongolia
A superior kidney tonic herb
Supports male sexual health
The "herb of Genghis Khan"