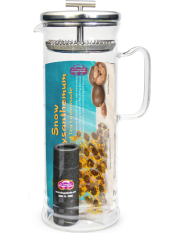 Glass Tea Elixir Maker 32 oz + Snow Chrysanthemum Samples + Recipe Card + Sweetfruit Mini Drops
Get $17 off, a recipe card, Sweetfruit Mini Drops, and 2 sample packs of Snow Chrysanthemum with a purchase of this 32 oz Elixir Maker!
Non-reactive and non-porous glass is compatible with all botanicals
32 oz Elixir Maker has built-in stainless steel strainer
The silicone seal in the lid provides a tight seal, allowing for one hand pouring
Easily monitored, instantly admired.
Versatile. Suitable for stovetop, desktop and tabletop. Gas and electric stove safe.
Snow Chrysanthemum flower buds are extremely beneficial for supporting healthy blood pressure, blood sugar level, and blood lipid level.
Item No: 88313SC
Special Price
$19.99
was
$30.00