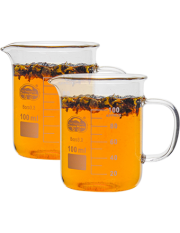 MCOT Glass Beaker (Set of 2) 100 ml
Fire, Freezer, Dishwasher and Microwave Safe
Versatile Temperature Range – from fire to freezer, our glassware can endure temperatures ranging from -4 °F to 302 °F (-20 °C to 150 °C)
Non-porous – Will not absorb colors, odors, or flavors.
Non-reactive – can withstand high acidity and high alkalinity without deterioration
Versatile Uses - Can be used to cook teas and beverages, to take measurements, as a mug, etc.
Measurement Markings make it easy to measure each ingredient exactly and make the perfect drink every time!