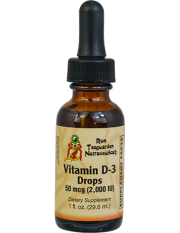 Also known as "sunshine vitamin"
Essential supplement for optimal health.
Contains vitamin D-3 (cholecalciferol), a highly bioavailable form of Vitamin D.
Sourced from lanolin (a vegetarian source of Vitamin D).
Providing 2000 IU per drop in a base of safflower oil, olive oil, and organic virgin coconut oil, with added vitamin E to maintain freshness and stability.
Gluten free.
Vitamin D is essential for calcium and phosphorus absorption and utilization.
Stimulates osteoblast (bone producing cell) activity, which helps maintain bone density and strength.
Stimulates the synthesis of osteocalcin, an important protein involved in bone formation.
Helps maintain adequate blood calcium levels which help support cellular metabolic processes, cardiovascular and neuromuscular/neurological functions.
Vitamin D is important for normal, healthy cell growth and function.
Helps support normal, healthy insulin secretion.
Vitamin D helps support healthy immune function.