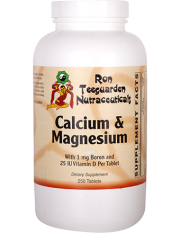 Calcium & Magnesium Citrates
A high quality calcium/magnesium formula
Features calcium and magnesium in their "citrate" form, which is believed to be the most absorbable form of these essential minerals
Supports bone health
Vitamins D and K plus Boron are added as synergistic support of the calciu
Calcium & Magnesium Citrates provide 750 mg of calcium per serving (4 tablets as recommended dosage serving size).
Some other calcium supplements use a high dosage of calcium per tablet or capsule. However, if the form of calcium isn't well absorbed by the body, it does not truly deliver the proper benefit.