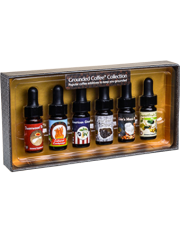 Grounded Coffee® Mini Drops Collection
Popular Coffee Additives to Keep You Grounded
Don't change your joe, just inject some mojo.
Mini-sizes perfect for trial and on-the-go!
Duanwood Reishi Mini Drops
The forest log-grown mushroom is revered as the mushroom of immortality in Asia
Cultured Cordyceps Mini Drops
Balanced deep rejuvenation for all; the reincarnation of the Wild Tibetan Cordyceps
American Ginseng Mini Drops
True energy physically and mentally for all
Wild Siberian Chaga Mini Drops
The Siberians' coffee alternative. Their secret to ensure survival of the fittest in Siberia.
Lion's Mane Mini Drops
Mushroom for the brainy bunch
Sweetfruit Zen Mini Drops
A low calorie low-glycemic-index sweetener with a Zen calm. The perfect sweetener to take the edge off of coffee.