We're committed to using the latest and best technology. Poor production methodology will result in a poor product. It may at first seem like an oxymoron to say that we use high technology to make natural products. But it is very important to know that LOW technology results in burned or destroyed finished extracts. Even processing raw foods (drying) incorrectly can destroy them. By our standard, the definition of high technology is "the latest, best technology available that maintains the natural constituents of a raw ingredient without destroying any of the active constituents." We spend considerable time at our factories and with our technicians perfecting the technology used to produce Dragon Herbs products. We are NOT just buying from brokers or hidden factories like most other US herb companies. We routinely fund research and development of new production techniques and technologies.
We have fully studied the field of nutraceutical and herbal technology. We have experts who specialize in raw herb analysis, drying processes (such as spray drying, freeze drying and vacuum drying), essential oil trapping, water and alcohol extraction, granulation technologies, and many other aspects of production. From beginning to end, we use the latest and best technology to manufacture our herbal products. This brings out all the richness inherent in the superior raw material we go to so much effort to procure. The result is a more potent, efficacious product that is optimally beneficial to you. The best technology assures the most natural product—poor technology tends to overcook the herbs or otherwise destroy vital constituents. Dragon Herbs uses state of the art technologies that protect constituents and promote efficacy of the final product.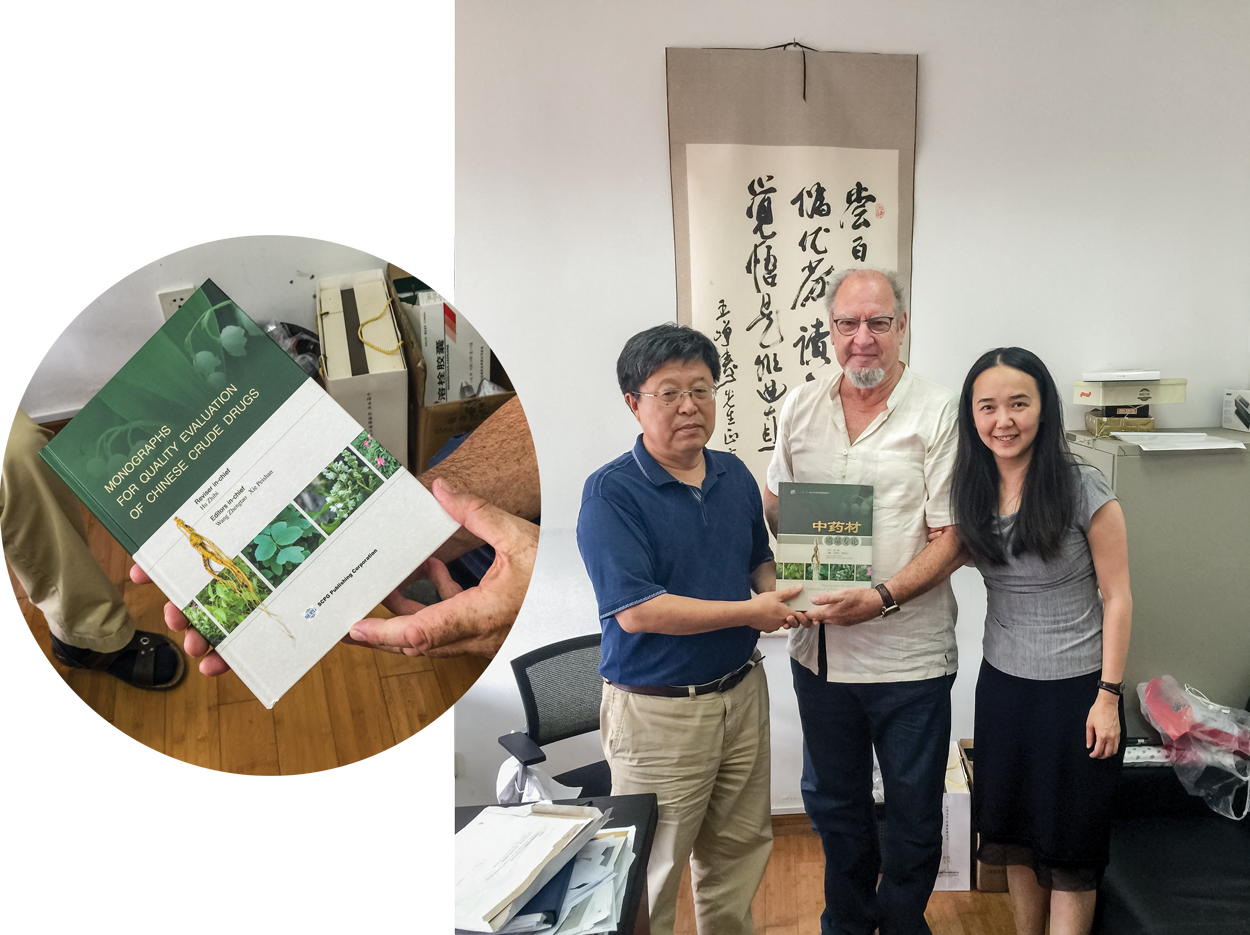 Professor Wang Zhengtao, Editor of the Chinese Pharmacopeia and one of the foremost experts on herbal identification in the world, meets with Ron and Yanlin in Shanghai. Professor Wang's laboratory performs herb identification services for Dragon Herbs.